ACCOMODATIONS
Host Hotel :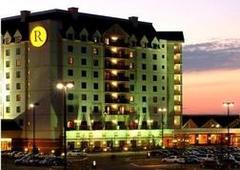 RenaissanceTulsa Hotel and Convention Center
6808 South 107th East Avenue
Tulsa, Oklahoma 74133 USA
Phone: 1-918-307-2600

Fax: 1-918-307-2907
Toll-free: 1-800-264-0165
Sales Fax:
1-918-307-4033
---
Reservation Information
The Renaissance is Tulsa's premier and only four-star hotel. The facilities are lovely and the committee is confident that you will enjoy
your stay.
April 21st through April 26th, 2014
. Reservations need to be made by
March 31st, 2014, 12:00 A.M
.
Standard Room - $99.00 and Standard Suite - $139.00. Group is Belgian Sheepdog Club of America.
The hotel is offering free shuttle service from Tulsa International Airport to the hotel and return to the airport. However, the hotel has requested that all guests flying in to notify the hotel of arrival time so they can schedule your pickup. Also please let them know if you are arriving with dogs and crates, so seats can be removed from the vans to accommodate you.
POLICY ON STANDARDS OF BEHAVIOR BY ALL EXHIBITORS ATTENDING NATIONAL SPECIALTY SHOWS

The BSCA has an excellent history of maintaining its Specialty Headquarters and show site in good condition. Rings, grooming areas and hotel rooms occupied by its members are expected to be left with no damage and as clean as possible.
The Club has the following policy for standards of behavior:
No dog should be left uncrated in a hotel room in absence occupants at any time.
Dogs that constitute a nuisance to the other occupants of the hotel by continual barking or howling, may subject their owners to being removed by the hotel.
There will be no grooming in the hotel rooms, only in designated areas.
There will be no bathing in the hotel rooms, only in designated areas, and hotel towels should not be used.
The external and internal premises of the hotel and show site shall be kept free of debris and feces caused by the dogs attending the Specialty.
Exhibitors are not to bring litters of puppies to the Show Headquarters.
All dogs will be on a leash at all times.
The BSCA strongly encourages members to inspect their rooms prior to checkout.
Exercise pens are allowed only in designated areas.
Dogs may only be exercised in designated areas.
Dogs may not be left unattended.
2014 BSCA NATIONAL SPECIALTY
RV PARKING INFORMATION& REGULATIONS
RV Parking is a privilege extended by the Belgian Sheepdog Club of America. The club reserves the right to withdraw this privilege from any person(s) who feel that they cannot abide by the rules and regulations or resorts to abusive language.
All parking is at your own risk.
The club assumes no responsibility for fire, theft and/or damage to any vehicle or it's cargo.
Overnight parking will be available beginning at 1:00 pm on Sunday, April 20, 2014.
Premises must be vacated by 11:00 am on Sunday, April 27, 2014.
Reservations close on Wednesday, April 9, 2014. Contact the RV chairperson if you have any questions.
No hook-ups –RV's must be self-contained. No tents allowed on the hotel parking lot.
Requests to park together must be requested. **mark on reservation form
The BSCA reserves the right to adjust parking assignments
Parking will be assigned considering vehicle size, number of dogs,
handicap parking requirements, date and completeness of reservation.
Exhibitors are responsible for cleanup of the parking spaces.

VIOLATORS OF HOTEL AND BSCA REGULATIONS MAY BE EXPELLED FROM THE GROUNDS

PARKING FEES - OVER NIGHT RESERVED:
RV Hotel parking with no Hotel room reservation ( No Hook Ups) $25 per night.
RV Hotel parking along with Hotel room reservation (No Hook Ups) ** No Charge but hotel conformation number must be on your form.

Mail reservation with check payable to:

Belgian Sheepdog Club of America
c/o Sherry Hanley
6229 Venture Court
Slatington, PA 18080 3112

RV Reservation Form